Löwen still in the hunt for top spot, Nantes take another win
With trips to Barcelona and Vardar looming, Löwen were in dire need of a positive result against Szeged. And the German champions duly delivered, with a straightforward 34:31 win that brought the Lions to second place in the group.
Meanwhile HBC Nantes took their third win of the season after a tense battle with Orlen Wisla Plock and move up to level pegging with Szeged. The Polish club are still without a win after six games.
Löwen's Andre Schmid was top scorer with 10 goals
Löwen are still undefeated this season, with four wins and two draws
Szeged and Nantes are now level with seven points each
Romeu Balaguer netted nine for Nantes
GROUP A
MOL-Pick Szeged (HUN) vs Rhein-Neckar Löwen (GER) 31:34 (14:19)
One of the four teams without a loss in this season after five rounds, the Lions headed to Szeged. MOL-Pick were undefeated at home this season, after a draw with title-holders HC Vardar and a comfortable 36:27 win against Kristianstad.
A four-goal run from the visitors was quickly brushed off by Szeged, who relied on left back Richard Bodo to cut the lead to one goal.
But another surge from the guests took them further away again. Löwen's 71% shot efficiency in the first half saw them take a commanding 19:14 lead.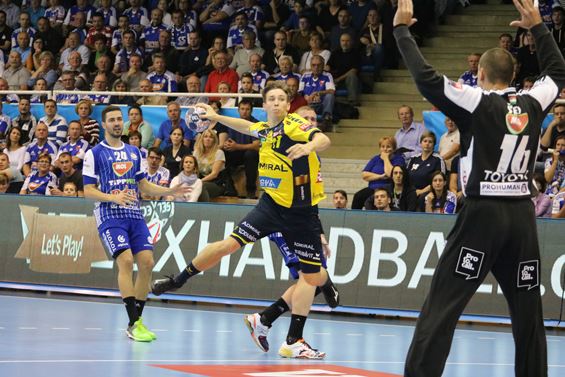 Another Andre Schmid power surge took the German champions to a seven-goal lead, 24:17, only six minutes into the second half. There was no place for a comeback for Szeged.
The home team managed to cut the lead to three goals, 34:31, but never took the lead and never looked like they could earn at least a point.
It was a good start to a difficult away trip for Löwen, which will see them play against Barcelona and Vardar in the next two weeks.
Löwen coach Nikolaj Jacobsen said the atmosphere and spectators had been great.
"It is very difficult to play agianst Szeged and their coach as they are tactically very well prepared," he said. "I am very satisified with my team's performance in both offence and defence, and my goalkeeper, Andreas Palicka."
Szeged head coach Juan Carlos Pastor said their opponents had stepped on while his team were not at the level they used to be.
"Our strengths are defence and fast breaks, but this did not work today. Last year, we were able to play seven against six, but today they caused us too many problems.
"In the second half, we tried different variations of defence, which worked. The result is unreal, we fought all the match, we tried to get back," Pastor said.
Orlen Wisla Plock (POL) vs HBC Nantes (FRA) 30:32 (13:16)
Nantes continued their surge in Europe's top flight after a brilliant performance by right wing Romeu Balaguer inspired the French side to a 32:30 victory at Wisla. The Polish club are yet to win a game and have only one point from six matches.
Balaguer netted a game-high nine goals as Nantes, who are on seven points and looking well-placed to reach the knockout rounds, prevailed in a tense finish following a brave Wisla fightback.
A balanced opening 15 minutes, with the teams tied at 8:8, gave way to a Nantes takeover as Balaguer exploited space on his flank to engineer a three-goal half-time lead for the visitors.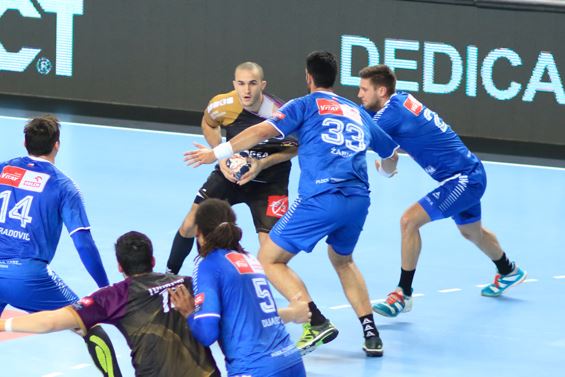 Nine excellent saves by the home team's goalkeeper, Adam Morawski, kept Wisla afloat in the opening period. Spurred by his heroics, the Polish outfit turned the tide in the second half.
Having shored up their defensive leaks, Wisla nosed ahead 21:19 in the 42nd minute, paving the way for a rip-roaring rollercoaster in the game's home straight.
The lead changed hands several times, with Wisla scoring three unanswered goals to draw level at 29:29. Balaguer forced the final twist with his lethal finishing by giving Nantes a 32:20 lead with a minute remaining, as Wisla's last-gasp attempt to salvage a point fell short.
Dominik Klein added five goals for Nantes and Nicolas Claire chipped in with four, while Croatians Sime Ivic and Lovro Mihic led Wisla with five goals each.
Wisla goalkeeper Adam Morawski said: "I think that we missed many easy goals and our mistakes in the first half were key to Nantes' victory. In the second half we got them, we had two goals advantage, and our job was to keep it. But our character was not enough to win this evening."
Nantes coach Thierry Anti said his team knew the match would be difficult and he was pleased with their concentration in the second half.
Author: Adrian Costeiu & Zoran Milosavljevic/jh