Cuban rhythms rock European handball
Cuba is the biggest Caribbean Island and a touristic attraction for many. It is known more for its music and culture than for handball.
No surprise that ambitious players want to leave their country, come to Europe and conquer handball's biggest stage.
Frankis Carol left Cuba in 2011 to join Sporting. He was driven by the possibility of growing professionally and playing handball at a better level, and preferred Portugal over offers from other countries like Hungary.
"I wasn't used to being outside of Cuba and Sporting's greatness impressed me: the overall conditions and the club making sure we had everything. It was all very different," Carol says.
Growing as a player
Pedro Valdés also left Cuba to come to Portugal. But before joining Sporting this season he played at Artistica de Avanca, where he stood out for his shot efficiency.
"When I knew that Sporting had some interest in having me, I was surprised. I only believed it when I had the offer. I was motivated by the possibility of growing as a player and also by getting the chance of helping my family economically," Valdés explains.
At 23, Valdés missed his family in the beginning but his teammates were a big support.
"We are together many times, even away from games or practise," he says. "Also, having Frankis in Portugal and as a teammate is really important. He helps me in the games and in life in general."
There are lots of talented players in Cuba but handball in the country has had better days. Cuban players see Europe as a chance to do better and to be recognized for their work, achieve bigger and greater dreams.
"Portuguese handball is more tactical," says Valdés, referring to the greater competitiveness compared to Cuba. "I think that the tough access to the internet in Cuba also makes it difficult to watch videos from other teams and study them. Here it's really different."
Important role in the team
Both athletes acknowledge the economic differences between the countries.
"Cuba is a really poor country. However, people are happy in the streets and everybody talks to each other. Here, people like their privacy more," Carol explains.
Sporting has been standing out in Portugal and in Europe since February. They won the domestic championship and the Challenge Cup - their second in the club's history.
Carol didn't take long before playing an important role in the team, both in offence and defence. He admits that he had "to work a lot" but "it was worth it."
"In Portugal, we are the team that everybody wants to beat because we are the champions. Our league is really competitive but we want to do better."
Every game is a challenge
Valdés adds that every game is a challenge for Sporting, and players know they need to have a good attitude and commitment with the club.
"We play every game like it's our last. We fight for every ball with everything that we have," he says. "The team is evolving and I'm growing as a player, too. Our biggest strength is the defence, and defence is everything in this sport."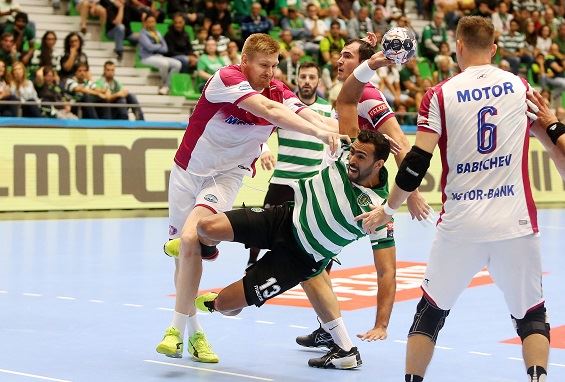 Both athletes are playing their first season in the VELUX EHF Champions League, and are living their career dream.
"If Sporting hadn't believed in me, I had never had this opportunity. It's a dream come true and I never thought that I would be able to play at this level," Valdés says.
Dream of playing in Europe
According to the two players, many prospects in Cuba share the dream of playing in Europe and in the Champions League. But it is hard to achieve.
People back home watch their matches mostly on TV as the possibility of watching online often doesn't exist.
While they are trying to leave their mark on Europe's biggest stage of handball, Carol and Valdés want to impress and inspire other Cuban players.
In their minds, there is one more goal: to represent their national colours at a major international championship.
Author: Felipa Sousa / ew