Narrow wins for Veszprém and PSG; Flensburg snatch draw
Flensburg's Marius Steinhauser secured a point for the German side with a buzzer-beating goal at Kielce, while Veszprém (against Kiel) and PSG (against Celje) were shaken before sealing victory and Brest took the points in Denmark.
· Flensburg scored the last four goals of their match.
· Veszprém remain on top of the group with a clear record of four wins.
· After ten goals at Paris, Zika Mlakar is second in the top scorer list with 32 strikes.
GROUP B
PGE Vive Kielce (POL) vs SG Flensburg-Handewitt (GER) 25:25 (10:10)
After a true thriller, Flensburg and Kielce could not believe what had happened, but reacted very differently to the outcome.
With the final buzzer Marius Steinhauser levelled the scores after the visitors had trailed for most of the second half. After Slawomir Szmal had saved Holger Glandorf's final attempt, Steinhauser rebounded and squeezed the ball in just in time, shocking the home crowd.
With 15 minutes to play, when Darko Djukic made it 22:16 for the hosts, nobody in the arena could have guessed Kielce would let this win slip from their hands.
"When we started second half, we made mistakes, we were missing shots again, it was very difficult to come back after such a loss in such atmosphere against such a team. But we made it. We are very happy. We had a lot of luck at the end," admitted Flensburg coach Maik Machulla.
Kielce remain unbeaten on home ground, but failed to replicate the stunning performance of two weeks ago, when they dispatched Kiel 32:21. Flensburg were shaken in the middle of the second half, but showed great composure to claw their way back.
In the final stages, Flensburg managed to reduce the gap to three goals at 20:23. When Bielecki netted in for the 25:21, Kielce appeared in control once again. However, that would be their final goal, while Flensburg replied with four of their own to claim a share of the spoils.
"We played well and were six goals ahead, but we lost concentration in last minutes. We lost too many balls in the final 10 minutes and that is why we lost the point," explained Kielce's Marko Mamic.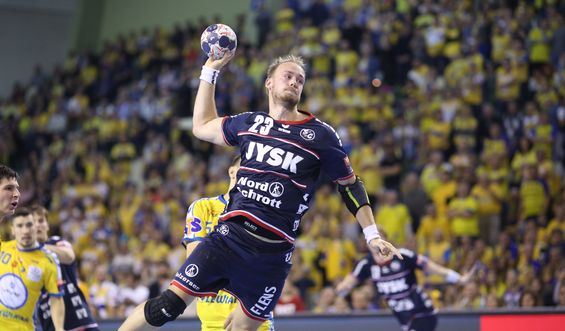 Telekom Veszprém HC (HUN) vs THW Kiel (GER) 26:24 (12:15)
Veszprém remain the only team in Groups A and B with a 100% record. But the 2015 and 2016 VELUX EHF Champions League finalists were made to work hard to overcome the German side, who showed they are still very much capable of competing at this level.
Alfred Gislason's Zebras battles for 60 minutes, but finally remain without an away point this season after their third defeat in four matches.
Kiel had not been able to conquer the Veszprém arena and nothing changed in the Match of the Week, in which Momir Ilic (six goals for the hosts) and Steffen Weinhold (eight for Kiel) were the top scorers.
Kiel shocked the hosts with a blistering start, including a brilliant showing from Andreas Wolff in goal. THW silenced the arena with a 7:3 lead, while Veszprém struggled to find a way past the Kiel defence which was nothing like what was seen in Kielce two weeks ago.
Boosted by the fans and goals from former Kiel left back Momir Ilic, Veszprém managed to briefly draw level, before the visitors regained control and took a 15:12 lead into the dressing rooms.
Veszprém had learnt their lesson from the weak start and stood strong in defence in the first minutes of the second half, which led to a five-goal turnaround and a Kiel timeout.
Slovenian playmaker Miha Zarabec and right back Steffen Weinhold kept the German side alive, but with the scores at 23:23, Veszprém moved up a gear as Ilic, Nagy and Lekai all found the net and secured the two points.
"In the first half we were not playing badly but missed a lot of shots. In the second half we were playing better and had more concentration in defence. All in all, I am very happy for these two points," said Veszprém's Dejan Manaskov.
.@mkbveszpremkc take MOTW! pic.twitter.com/ibSji3RlnN

— EHF Live (@EHF_Live) October 8, 2017
Aalborg Handbold (DEN) vs HC Meshkov Brest (BLR) 20:23 (11:10)
After two defeats against top dogs Paris and Veszprém, Brest earned an important two points on Sunday afternoon. Thanks to a clear improvement after the break and a game-high seven goals from Petar Djordjic, Meshkov took their first away win of this season.
Aalborg were in full control of the early exchanges, before the physical stronger Belarusian side got their defence in order. At the break, the team of Sergej Bebshko trailed by a goal, but managed to turn the tide easily, going on a 5:1 run to lead 16:12 early in the second half.
When Dziannis Rutenka and Rastko Stojkovic extended the gap to 22:17 with eight minutes to play, the two points were as good as safe in this low-scoring encounter.
Aalborg's Jesper Meinby explained: "It is a disappointing feeling, because we know we could have played better. We have played better recently so it is disappointing to sit here after a match, where we could have won had we been playing the way we have recently."
Andreas Jensen's four goals was the best showing for Aalborg, who host PSG in Match of the Week next Sunday.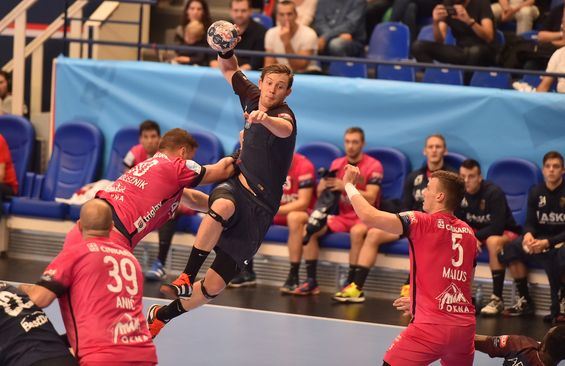 Paris Saint-Germain Handball (FRA) vs RK Celje Pivovarna Lasko (SLO) 32:27 (18:14)
Despite ten goals from Zika Mlakar, Celje were left with nothing to show for from their visit to Paris. PSG were shaken by the Slovenians for long periods of the game, but emerged victorious for their third win of the season.
Celje arrived with confidence following their surprise win against Kielce in Round 3, while PSG took their time settling in early on.
It took 20 minutes for PSG to draw level for the first time, thanks to Uwe Gensheimer making it 12:12. The home side then took the upper hand, with a strong duo of Gensheimer and Sander Sagosen, scoring 11 of their 18 first half goals.
Backed by the goals of Mlakar and Gal Marguc, Celje gave themselves a chance at 23:22 down with 18 minutes left to play, but ran out of steam in the end as PSG finished with a flattering five-goal win.
"We are happy and sad at the same time. We played good handball for 30 minutes, but we needed a bit more to win the game. Paris were the best team on the court but we are proud of our performance," said Celje's Igor Anic
Author: Björn Pazen / cor