Plock claim their first point
Both Zagreb and Plock had had a poor start in their VELUX Champions League season, with only Zagreb managing to pick up one point in the three opening rounds. But neither of them could claim their maiden victory in a thrilling match in Zagreb, as the rivals settled for a 28:28 draw.
Both teams are still without victories in the competition
Plock earned their first point in Group A
The Polish side played their 100th match in the European top flight
Stipe Mandalinic scored 10 times for Zagreb
GROUP A
HC Prvo pilnarsko drustvo Zagreb (CRO) vs Orlen Wisla Plock (POL) 28:28 (18:16)
If Zagreb want to advance to the next round, they need to win matches. Of course the same can be said about Plock, so the game was equally important for both teams.
The first half featured a dynamic game with the opponents rapidly exchanging attacks and goals. Zagreb had a slow start and found themselves trailing 3:5 before Stipe Mandalinic started to demonstrate his fire power.
His six goals before the break helped the home team to turn things around, which led to Zagreb having a two-goal advantage at the interval (18:16).
Yet during nearly nine opening minutes of the second half, the home team could not score at all – even Zlatko Horvat's penalty shot was saved by Adam Morawski.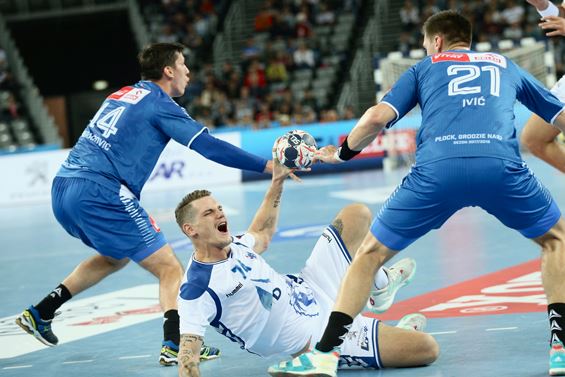 Plock – especially Gilberto Duarte - were much more efficient in attack, so their 21:18 lead gave them optimism. Yet the hosts did not give up and soon drew level at 23:23.
The game was back and forth after that, with the outcome unclear until the last seconds. With his tenth goal in the match, Mandalinic gave Zagreb a 28:27 lead 30 seconds from full time.
Yet following a time-out and with ten seconds to go, Igor Zabic's first and only goal in the game gave Plock their first point in the current European season.
Emotions on the court
Plock coach Piotr Przybecki said the match was "really hard".
"There were a lot of emotions on the court today and I really believe this is the most realistic outcome," he said. "In the first part our defence was not that good, we were standing way too far from our opponents but in the second half we managed to improve on that and even had a chance to win this. However, we know how tough it is to take a point here in Zagreb so we must be satisfied."
Zagreb coach Kasim Kamenica said it had been a tough match and his team had missed opportunities in attack when struggling to make their defence work.
"In the end we managed to get a point but I can't really say I'm satisfied because we wanted to win this," he added.
Author: Sergey Nikolaev/jh