Vori eyes a ticket to Cologne
A new coach, a change between the goal posts and high hopes: this is HC Prvo plinarsko drustvo Zagreb. After three straight qualifications for the knock-out stage, the Last 16 is the minimum goal for the Croatian champions and coach Kasim Kamenica.

Three questions before the new season:
Will Arena Zagreb be the fortress the club needs to proceed to the Last 16?

In the 2016/17 season, Zagreb took all eight points – which were just enough to leave Celje behind and clinch the Last 16 berth – on home ground. Thus, manager Bozidar Jovic is sure that "Zagreb can outplay all the other teams in the group. It will not be easy, but we can beat anyone in Arena Zagreb.

"The key to a good campaign is to play well at home and try to make at least two upsets playing away."

Is there enough experience to steer the youngsters?

With the signing of Damir Bicanic, the load of experience remains the same despite the departure of Ivan Stevanovic.

Players such as new team captain Igor Vori, his predecessor Zlatko Horvat and the Valcic brothers combine for hundreds of international matches – while the 'middle age generation' with the likes of Stipe Mandalinic or Domagoj Pavlovic is growing.

Who will be the next top talent?

Aside from Urh Kastelic, another young gun is among Zagreb's signings this season: right wing Josip Bozic Pavletic, the youngest Croatian player at the World Championship 2017.

Arriving from Nexe, the 23-year-old left-hander will share the position with experienced Zlatko Horvat – and potentially become a star like his colleague.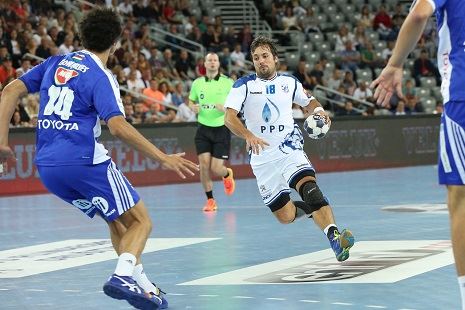 Under spotlight: Urh Kastelic

In the last two seasons, two top goalkeepers left RK Zagreb: first Filip Ivic to Kielce, now Ivan Stevanovic to Schaffhausen.

The Croatian team found a potential successor in Slovenia: 21-year-old Urh Kastelic – Youth Olympic Champion in 2014, silver medallist at the Youth World Championship 2015 and bronze medallist at the Men's World Championship 2017.

Kastelic was contracted by Celje, but on loan to Maribor, and now Zagreb grabbed the chance to sign this top talent. Thus, the new goalkeeping duo is all-Slovenian, as Kastelic will fight for number one status with his country-fellow Matevz Skok.

Self-esteem

Taking all domestic competition trophies comfortably, Zagreb can fully focus on the SEHA and Champions League. After their lucky qualification for the Last 16 in March, the aim is once again to make it that far – at least.
"We will try our best to make one more step and to qualify again among eight best teams in Europe," hopes Jovic, while Vori dreams of one step further:

"I won the Champions League with HSV Hamburg and it is my dream to go to Cologne once again with my home club. It will not be easy having such a young team, but I believe that we can reach the quarter-finals and then, with a little bit of luck, everything is possible."

The world and Olympic champion hopes to begin their campaign strong: "Last season we started with four defeats in a row, so this season we have to get up a little bit earlier and play every game like it's the Champions League final."

Fun fact

Veselin Vujovic, Silvio Ivandija, Slavko Goluza – three coaches passed through Zagreb in the last season.

Vujovic resigned after a weak start in the VELUX EHF Champions League and focused only on the Slovenia national team, which he steered to the bronze medal at the World Championship in France in January.

Zagreb and Vujovic went separate ways on 17 October and Ivandija took over two days later. But his era ended sooner than expected, as again both sides agreed to split.

Right before the final tournament of the SEHA League, former Croatia national player and coach Goluza stepped in – though only for the rest of the 2016/17 season, as his new contract with TATRAN Presov had already been signed.

Now, Kasim Kamenica is at the helm.

What the numbers say

No club has been part of the EHF Champions League more often than RK Zagreb. In 25 seasons, the Croatian side were part of the competition 24 times. The only time they missed out was in the 2001/02 season.

Zagreb have been Champions League finalists four times in their golden era, but never took the trophy, as they were beaten once by Irun (1995) and three times by Barcelona (1997, 1998, 1999).

HC Prvo plinarsko drustvo Zagreb (CRO)

Qualification for the VELUX EHF Champions League 2017/18 season: Croatian champions

Newcomers: Damir Bicanic (Chambery Savoie Handball), Urh Kastelic (Celje Pivovarna Lasko), Matej Hrstic (Izvidac Ljubuški), Valentino Ravnic (RK Umag), Josip Bozic Pavletic (Nexe Našice), Tin Lucin (RK Kozala)
Left the club: Ivan Stevanovic (HC Kadetten Schaffhausen), Stefan Vujic (C.S.A. Steaua Bucuresti), Lovro Sprem (RK Sesvete), Darko Cingesar (Pays d'Aix Université Club Handball), Velko Markoski

Coach: Kasim Kamenica (since May 2017)

Team captain: Igor Vori

VELUX EHF Champions League record:
Participations (including 2017/18 season): 24
Final (4): 1994/95, 1996/97, 1997/98, 1998/99
Semi-final (1): 1999/2000
Quarter-final (7): 2000/01, 2002/03, 2003/04, 2008/09, 2011/12, 2014/15, 2015/16
Last 16 (4): 2005/06, 2009/10, 2010/2011, 2016/17
Main round (1): 2007/08
Group phase (6): 1993/94, 1995/96, 2004/05, 2006/07, 2012/13, 2013/14

Other EC records:

EHF Cup:
Finalist 2004/2005

Cup Winners' Cup:
Semi-finalist 2006/2007

Croatian league: 27 titles (1990/91, 1991/92, 1992/93, 1993/94, 1994/95, 1995/96, 1996/97, 1997/98, 1998/99, 1999/00, 2000/01, 2001/02, 2002/03, 2003/04, 2004/05, 2005/06, 2006/07, 2007/08, 2008/09, 2009/10, 2010/11, 2011/12, 2012/13, 2013/14, 2014/15, 2015/16, 2016/17)
Croatian Cup: 24 titles (1990/91, 1991/92, 1992/93, 1993/94, 1994/95, 1995/96, 1996/97, 1997/98, 1998/99, 1999/00, 2002/03, 2003/04, 2004/05, 2005/06, 2006/07, 2007/08, 2008/09, 2009/10, 2011/12, 2012/13, 2013/14, 2014/15, 2015/16, 2016/17)

Winner of the SEHA League 2013
Author: Bjorn Pazen / cg