Buducnost victory sends Valcea through
SCM Ramnicu Valcea have advanced to the main round of the DELO WOMEN'S EHF Champions League despite suffering their fifth straight defeat in the competition on Saturday. The Romanian side lost 26:23 to Brest Bretagne Handball, which extended their streak to a perfect six wins from six matches.
Valcea got help from ZRK Buducnost two hours later, as the Montenegrin side defeated SG BBM Bietigheim 34:28 - leaving both Valcea and Bietigheim on two points in the final group C standings. However, Valcea led the head-to-head statistics, after beating their German rivals 34:27 at home while losing 31:28 away.
Valcea join Brest and Buducnost in group 2 of the main round, where they will face title-holders Györi Audi ETO KC and two other teams from group D, which plays to a finish on Sunday.
Pauline Coatanea and Sladana Pop-Lazic both led with five goals for Brest

Valcea are on a five-game losing streak and enter the main round on zero points

a draw would have been enough for Bietigheim but the German side never was close to taking a point from Buducnost

Jovanka Radicevic, the competition's top goal scorer, had seven goals
GROUP C
SCM Ramnicu Valcea (ROU) vs Brest Bretagne Handball (FRA) 23:26 (13:14)
After four consecutive losses, a tough game against unbeaten Brest was not exactly what Valcea needed, but the Romanian champions would have booked their place in the main round of the DELO WOMEN'S EHF Champions League with a win.
Surely, they had a good start, limiting the superb Brest attack to zero goals scored in the first three and a half minutes, but as the French side got into their groove, they slowly took control and jumped to a 7:5 lead, after 12 minutes.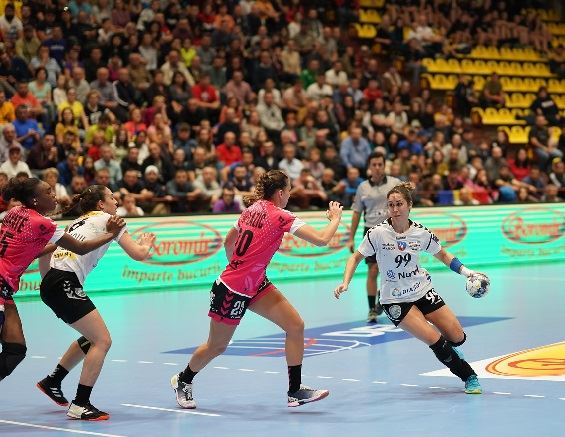 It was an under-par offensive performance for Brest's high standards, yet Serbian line player Sladana Pop-Lazic led the show with five goals, as right back Ana Gros was limited to only one goal by a stout Valcea defence.
With Yuliya Dumanska still superb between the posts, Valcea took a 2:0 run into the second half, but shortly afterwards, a 5:0 run for Brest inspired by wing Pauline Coatanea lifted the French side to a 21:17 lead.
Valcea answered with their own 3:0 run to give hope again to their cheering fans, but Ana Gros was superb in clutch moments of the game, helping Brest to a 26:23 win.
Buducnost (MNE) vs SG BBM Bietigheim (GER) 34:28 (18:14)
The math was simple for Buducnost: win against Bietigheim and start the main round with four points, draw or lose and lose at least one point.
The German side knew that a loss would have meant elimination, but did not have the firepower or the defensive nous to prevent it. Bietigheim led only once, 3:2, but as Buducnost started revving their engines, the guests were left behind.
Dutch right back Laura van der Heijden ensured that Bietigheim was still in the game with three goals in the first half, but Buducnost were ahead by a four-goal margin (18:14) at the break.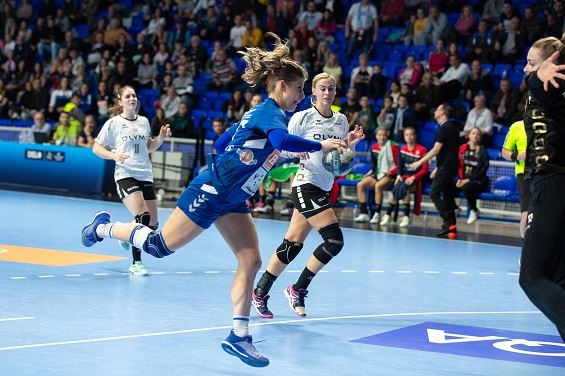 As soon as the second half started, Bietigheim crumbled under pressure and the gap continued to grow.
The leading goal scorer in the competition, Jovanka Radicevic, had another great outing with seven goals, as Buducnost cruised to a 34:28 win, although they slowed down having been 10 goals up in the 52nd minute.
"The players are already thinking of the national team and it's not easy to play matches like this," Buducnost coach Dragan Adzic said. "All the players made a contribution and that makes me happy."
Bietigheim coach Albertsen acknowledged that his team "played in a very strong group and we could not allow ourselves the mistakes that we were making. Buducnost played aggressive in defence, and we did not adapt in the best way to our opponents."
Author: Adrian Costeiu / ew