Brest preserve flawless record
Ahead of their trip to Germany to face SG BBM Bietigheim, Brest Bretagne Handball had started their Champions League season in flying form. Brest had won both of their opening matches in group C of the DELO WOMEN'S EHF Champions League, and they were looking to maintain their perfect record this season – against Bietigheim.

Again led by right back Ana Gros and line player Sladana Pop-Lazic, in another high-scoring encounter for the French side, Brest's quality in attack saw them edge an entertaining match against Bietigheim, 35:32.
Also on Saturday in group C, Buducnost produced a defensive gem against, limiting Valcea to a 40 per cent shooting efficiency, as the Montenegrin side cruised to a 23:19 win, as the Romanian side scored only nine times in the last 40 minutes of the game.
Sladana Pop-Lazic (seven goals) and Ana Gros (six goals) were the top scorers for Brest
This is the first time that Brest have won three consecutive matches in the Champions League
Bietigheim remain on zero points in group C
Jovanka Radicevic scored 13 times for Buducnost in their second win, taking them to four points
GROUP C
SG BBM Bietigheim (GER) vs Brest Bretagne Handball (FRA) 32:35 (18:17)
After losing their first two games this season, there was literally no room for error for Bietigheim, while Brest were coming in hot, with a flawless record.

The game was all about Bietigheim's defence trying to weather the storm against Brest's free-flowing style, but the French side scored five times in the first six minutes, including an empty net goal from goalkeeper Sandra Toft, to take a 5:3 lead.

Powered by a superb attack, which had an 86 per cent shot efficiency after 15 minutes, Brest jumped to a 12:8 lead, with seven different players scoring at least one goal.

But when Brest lost their steam, despite some wonderful saves from Sandra Toft, Bietigheim relied on their back court players to tie the game. A 9:4 run to end the first half saw the game turn on its head, with the German side taking a superb 18:17 lead at the break.

Firing on all cylinders, Bietigheim had a 3:1 run to start the second half to open up a three-goal gap, 21:18, as Brest could not rely on Ana Gros' precision and goals to bail them out.
Check out this 🚀 from @BBH_Officiel right back Ana Gros in the first half against @sgbbm! 😍 #ehfcl #deloehfcl pic.twitter.com/D7AVfB0XRh

— EHF Champions League (@ehfcl) October 19, 2019
While Bietigheim tried to keep their opponnents at bay, the French side rode a 4:0 run, which was sparked by Gros, to reclaim the lead, 26:24.

With line player Sladana Pop-Lazic unstoppable in the second half, scoring four times in ten minutes, Brest held their own – ultimately sealing a 35:32 win. It was also the third consecutive match in the Champions League this season in which the French side scored more than 30 goals.
Buducnost (MNE) vs SCM Ramnicu Valcea (ROU) 23:19 (13:10)
Having started with a superb win against Bietigheim, only to collapse to a 13-goal defeat against Brest in round 2, Valcea looked like a classic "Doctor Jekyll and Mr. Hyde" case.

Which version of Valcea was going to show up at Buducnost? Judging from the first 20 minutes, it was the spectacular one, as the Romanian champions had a bright start, yet there was still something lacking. Despite repeatedly taking the lead from the start to 10:9 in the 20th minute, the guests' back court did not contribute much, as line player Asma Elghaoui and wings Ann Grete Nørgaard and Marta Lopez scored seven goals combined.

But as Buducnost amped up their defence, Valcea were nowhere to be seen. For the last nine minutes and 49 seconds of the first half, the Romanian side failed to score. Therefore, Buducnost's 4:0 run to end the first half, with Jovanka Radicevic scoring seven of her 13 goals in the first half, was enough to put the hosts in control, 13:10, at the break.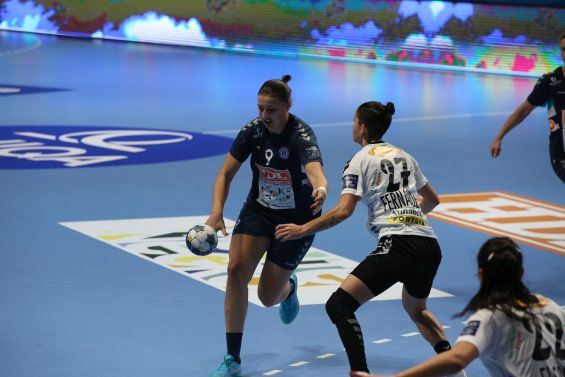 Losing playmaker Alicia Fraga Fernandez to a red card was a blow that Valcea could not recover from. Lacking creativity and speed in attack left the Romanian side exposed, and they could only score nine times in the second half.

Therefore, there was no question regarding the winner of this match, with the hosts cruising to a 23:19 victory that brings them closer to securing a main round berth.

On the other hand, Valcea have a lot to improve, on both sides of the ball, but especially in attack, where they were restricted for the second game in a row.
Buducnost line player Ema Ramusovic felt that their teamwork in defence helped secure the win. "We adhered to the agreement and principles in defense. It was hard to play against a team that has great players. We did our best and came up with important points."
SCM Ramnicu Valcea centre back Kristina Liscevic was generally positive after the match, despite her team's loss. She said: "Buducnost played a good game in defence. Otherwise, the match was fantastic - mentally and physically much harder. We (will) wait for Buducnost at home, (and) I hope we will be better than in Podgorica."
Author: Adrian Costeiu / jw