Historic celebration follows heroic win
There is a first for everything - and Györi Audi ETO KC know all about it.

After their thrilling extra-time victory over Vardar in Budapest on Sunday, the Hungarian champions completed a feat no other team had achieved since the introduction of the FINAL4 format in 2013/14: winning the Women's EHF Champions League two years in a row.

However, it was not 'just' winning another trophy for Györ. Their superstar and fans' favourite, Anita Görbicz, couldn't have wished for a more celebratory 35th birthday, and even Prime Minister Viktor Orbán sent his wishes and a bouquet of flowers to the team's captain.
More than 2,000 fans at the Dunakapu square got their biggest present when Görbicz started her speech: "Without you, we would not be here today!"

The main square, next to one of the rivers that flows through Györ, became almost as loud and crowded as the local arena during the team's home matches.

The leaving head coach, Ambros Martín, expressed his hopes that Sunday's win would not be their last of the season, as the Hungarian championship is heading towards its climax with Györ and FTC currently sharing the lead with 46 points each.
Just like last year, the mayor of Györ, former Olympic gymnastics champion Zsolt Borkai, and the club's president Csaba Bartha welcomed the unique result. They both thanked sponsors, staff and, most importantly, the fans.

"Not only the habitants of Györ, but the whole nation can be proud of these girls," Borkai said. "They showed us power, convergence, toughness and a huge amount of stamina. We can only learn from them."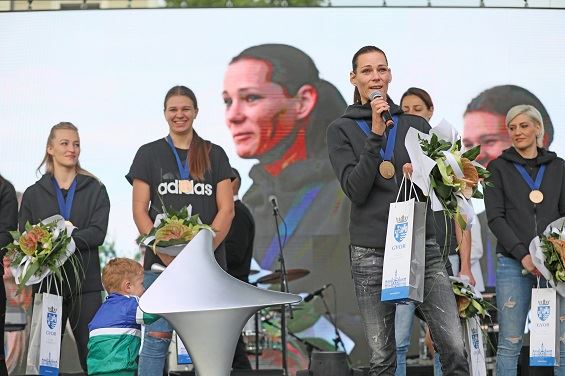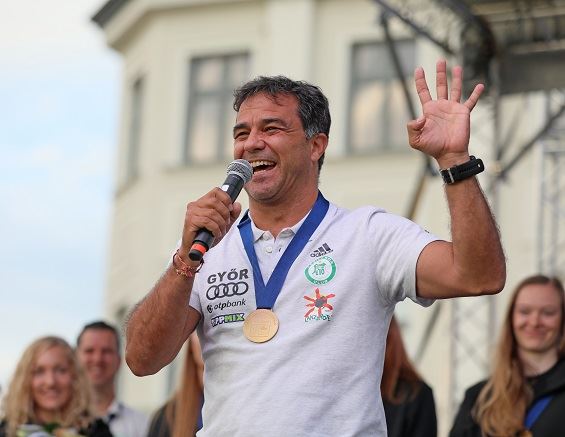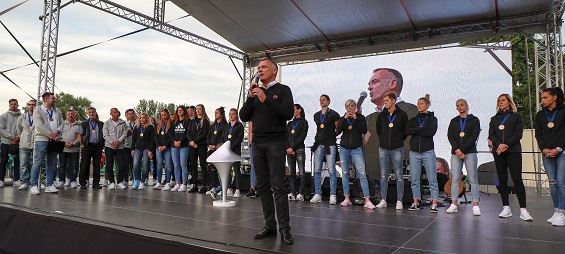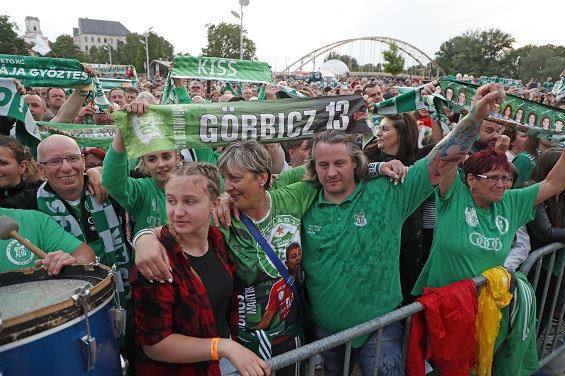 Photos from Györ: Péter Jakócs
Author: Béla Müller / ew