All German sides play on opening night of Round 10
The VELUX EHF Champions League is approaching its 10th and final round of the year 2017.
The midweek matches include the duel of two German archrivals, Zagreb's next attempt to take their first win, and the farewell game for two Group C teams.
Rhein Neckar Löwen can book their Last 16 ticket at Zagreb

For the 95th time in history, Flensburg and Kiel will lock horns

Family matters: Toft Hansen brothers will play against each other

Already eliminated, Kadetten are out for revenge against Dimamo
GROUP A
HC Prvo plinarsko drustvo Zagreb (CRO) vs Rhein-Neckar Löwen (GER)
Wednesday 29 November, 19:00 hrs local time, live on ehfTV.com
Zagreb, like Plock, are under huge pressure after both sides lost their matches in Round 9, while sixth-ranked Kristianstad surprisingly beat Szeged to increase their lead over this duo to four points.
Zagreb were chanceless against Barcelona upon the debut of their new coach, Zlatko Saracevic.
The Croatian side are still waiting for their first victory this season, having only earned points from two draws with Plock.
The duel with Löwen will be the last Champions League match for Stipe Mandalinic, who will move to Füchse Berlin on 1 January.
Löwen came close to becoming the first side to beat defending champions Vardar this season. But a late goal by Ivan Cupic and a spectacular save of Arpad Sterbik secured a 21:21 draw for the Macedonian champions.
The result gave Löwen their fourth draw from nine group matches.
The German champions clearly won the first leg against Zagreb (31:24) after they had been eliminated by the Croatian side in the Last 16 of the 2015/16 season.
Another draw would already be enough for Löwen to book their ticket for the Last 16 even before Christmas.
GROUP B
SG Flensburg-Handewitt (GER) vs THW Kiel (GER)
Wednesday 29 November, 19:30 hrs local time, live on ehfTV.com
The Northern-German derby is going into its 95th edition in history - and 23rd edition since 2013.
Statistics speak a clear language: Kiel have won 56 times, Flensburg 33 times and five matches have ended in a draw, including their 20:20 result from earlier this season.
For matches on their home court, however, Flensburg have a positive balance against Kiel with 24 wins and 17 defeats.
Though Kiel have won three of their last four group matches, Flensburg are still ahead by five points and are the only PSG hunters right now.
In the German Bundesliga, the gap is even bigger, with second-ranked Flensburg leading eighth-ranked THW by six points.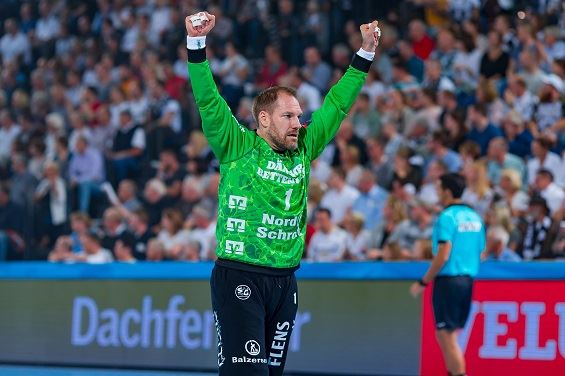 But both sides agree that neither previous results nor current standings have a big significance.
"This derby is a special match, for everybody, everything can happen," THW line player Patrick Wiencek says. "We gave a victory from our hands in the first leg so our aim for the second leg is clear."
As usual, the duel will be a highlight for the Toft Hansen family, as brothers Henrik (Flensburg) and Rene (Kiel) are set to lock horns once more.
Current Flensburg players Mattias Andersson and Rasmus Lauge have a THW history, while Kiel player Steffen Weinhold, who is injured, has previously played for SG.
GROUP C
Kadetten Schaffhausen (SUI) vs Dinamo Bucuresti (ROU)
Thursday 30 November, 20:15 hrs local time, live on ehfTV.com
Both sides have to say farewell to international competitions after this duel, and even their final standings have been set prior to the last round.
The 29:28 win in the first leg has been Bucuresti's one and only group phase victory so far this season.
So Kadetten, who have six points now and are guaranteed to finish fifth, will be out for revenge to end their campaign on a high note.
Author: Björn Pazen / ew