Marketing a premium product in a competitive environment
The new season of the VELUX EHF Champions League has strated. David Szlezak, the newly appointed EHF Marketing GmbH managing director, talks about the current situation and the innovations in terms of marketing and TV rights.
Szlezak (42), former Austrian international and Bundesliga player had been appointed to the director position on interim base in February. He has been with EHF Marketing GmbH since 2010 and previously held the positions of VELUX EHF FINAL4 manager and assistant managing director.
The new VELUX EHF Champions League season has started - what are the current tasks of the EHF Marketing director and his team?
David Szlezak: The group phase draw on 1 July at our new partner Select in Denmark had been the starting whistle for us. In the meantime we had organised a successful workshop for all participating clubs or an important meeting with our TV partners for example.
Of course, we had taken care on the production of the branding materials to fit the arenas all over Europe for the start of the season. It made things easier for all of us that 24 of the 28 clubs had been part of the competition in the previous season already. They know what to do, although we have some alternations.
What have you changed since you took over the director position?
David Szlezak: I did not accept this job to change everything. In contrast, we have a well-rehearsed and experienced team, which knows the Champions League and our sponsors.
You do not have to restructure and change, what works well. We are open for innovations, but in general the current status and the development of the VELUX EHF Champions League are on the right track. I took over a ship, which is travelling in the right direction.
The playing system remained the same, name sponsor VELUX has signed a contract until 2020 and most of the TV contracts are valid on a long-term base - it looks like a currently easy job for EHF Marketing?
David Szlezak: It is right that the big contracts are sealed. We are currently searching for a new premium partner, but this is not that kind of deal, which you negotiate on a single day. Thanks to those VELUX and the TV contracts we have a good and safe base.
We are in a competitive environment, thus we always have to search for new approaches and ideas. In terms of VELUX and its high level of cooperation, we are working on details.
Our new outfitters and suppliers Salming and Select have a completely different structure compared to our former partner, global player adidas, where handball played a subsidiary role only. Salming and Select are really high on the Champions League and the cooperation has been extremely innovative already in the first weeks. Overall, there's a lot of work and we take up a lot of subjects.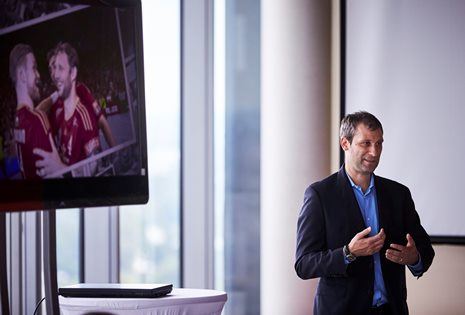 You mentioned the competitive situation - which sports, leagues and events are the main contenders for the VELUX EHF Champions League in terms of sponsorships and TV contracts?
David Szlezak: From the media side we are in a truly exciting period. The big brands call it the digital transformation. We have to stop thinking in one-dimensional ways, as there are so many opportunities and synergies. To focus only on board advertisement or on Facebook is not enough to attract attention, so we offer an integrated approach.
The sponsoring market is highly contested, the demand is rising in a disproportional way. We do not have a direct competitor, but obviously the business and competition model in basketball or other national handball leagues are similar. We consider the VELUX EHF Champions League as an international premium product, which does not expel others.
Is it harder to market a club competition in an Olympic year?
David Szlezak: Olympic Games do not have a huge impact on the marketing of the Champions League, but on the organisation. Due to the Olympic Games the competition calendar gets tougher. But in general it is positive when a huge audience perceives handball, but we do not find either more or less partners for the Champions League in an Olympic year.
The previous VELUX EHF Champions League final included teams from Hungary and Poland, and for the first time ever neither a German nor a Spanish team were fighting for the trophy. What was the effect from the marketing side?
David Szlezak: In this case, sportive success succeeded on the marketing success, as either Poland or Hungary are extremely important markets with a true competition for the TV rights, which means an extremely positive situation for the VELUX EHF Champions League.
Consequently, Kielce and Veszprem are attractive and successful teams and cause a lot of attention. In Spain and Germany, the situation is opposite: Despite a huge sportive success, the TV marketing is not that easy.
By looking upon the VELUX EHF FINAL4 in Cologne, the neutral fans come to see top handball plus expect a premium event - and both was offered in a perfect way in 2016. Those brilliant matches were one of the reasons, why we could sell thousands of tickets for the 2017 edition already on-site.
Thanks to the pre-sale, the VELUX EHF FINAL4 is a sure-fire success, or does EHF Marketing plan some changes?
David Szlezak: The event is anything but a sure-fire success. It is a product of our work and efforts that the first stage of the pre-sale needed to be stopped to keep a certain flexibility. If we stop thinking about the development of the event, it will surely go down quite quickly. In terms of potential changes, we are currently collecting some ideas and we will definitely have some alternations.
Are there any new markets out of Europe, the VELUX EHF Champions League is going to exploit?
David Szlezak: The extremely well-connected MP & Silva company holds our global TV rights and in cooperation with EHF Marketing is trying to market handball globally. The VELUX EHF FINAL4 is aired in more than 60 countries all over the world, and especially in Asia and the Middle East we a remarkable TV presence. But you cannot compare handball with football in this case. Europe is still the core market for handball, but we are aiming high overseas.
Author: Björn Pazen, original interview from Handballwoche / br