Emotions and passion of women's handball - photo presentation
The Women's European club season is over and all four trophies know their new holders as Győri Audi ETO KC won the EHF Champions League, Hypo NÖ dominated in the Cup Winners' Cup, Team Tvis Holstebro lifted the EHF Cup and DHK Baník Most raised the Challenge Cup.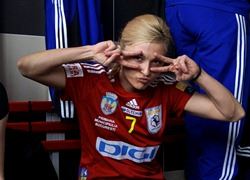 The EHF released a photo presentation composed from the pictures of the final phase of the Women's EHF Champions League.
The aim of this initiative is the strengthening of women's handball through presentation of another perspective, as female players are showing their emotions, moments of joy and disappointment in a different way.
The Close-Up slideshow showcase the female matches not only as sport events, but a unique picture selection also emphasises everything that makes women's handball beautiful and attractive for spectators.
Enjoy three minutes full of the most thrilling and passionate moments of the women's premier club competition and get ready for a new unpredictable season ahead.

Photo credits to the EHF photographers Uroš Hočevar and Richard Walch
Click here to watch the presentation
Author: EHF / br