Big names change the jerseys
The current and triple World Player of the Year and two players, who both aim for their fifth EHF Champions League trophy, are among the top 12 transfers of the 2017/18 season. A truly big number of big names changed sides and jerseys prior to the 25th anniversary season. Here is the overview and ranking of the 12 most important transfers.

12 Manon Houette - from THC to Metz Handball
After one season abroad, French national team left wing returned to Metz, where she has replaced her national team colleague Tamara Horacek. Houette – part of the 2016 EHF EURO bronze medal team – is famous for counter attacks and penalty throws.
11 Marit Malm Frafjord - from Larvik to Bucuresti
Among this list, Frafjord is the only one, who was decorated in Beach Handball too– as EURO silver medallists 2009 in Larvik. Frafjord had played for Viborg, before she joined Larvik and now makes a huge step to Bucuresti, where she is supposed to build a strong duo with Romanian international Oana Manea. Frafjord has been gold medallist at all major tournaments (EURO, World Championship, Olympic Games).
10 Louise Sand - from Sävehof to Brest
The speedy Swedish wing made it to Brest, accompanied by her national teammate, goalkeeper Fillipa Idehn. Sand played a highly strong home EURO in 2016 and was one of the Swedish faces, promoting the event. It is her first club abroad, after a successful spell at Sävehof.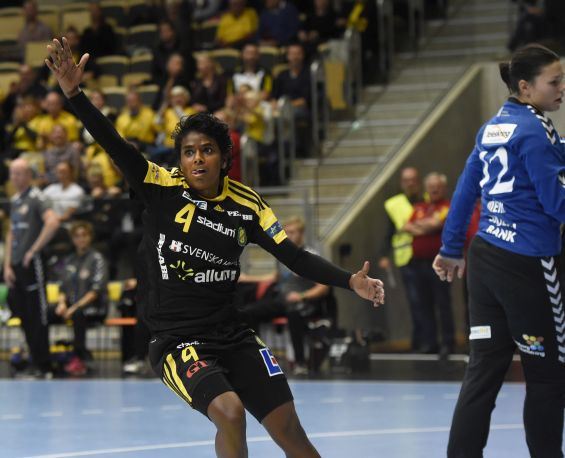 9 Laura van der Heijden - from Esbjerg to FTC
In 2010, she was the top scorer of the U20 World Championship in Korea, later-on Laura van der Heijden had her "handball school" at Oldenburg, with a huge number of Dutch teammates such as Lois Abbingh or Tess Wester. After a highly strong first Champions League season at former Danish champions Esbjerg, she will join her national teammate Dannick Snelder now at the Hungarian capital, mainly to boost the attack of the Hungarian runners-up.
8 Karolina Kudlacz-Gloc - from Leipzig to Bietigheim
As her former club got bankrupt in May, the team captain of the Polish national team needed to decide, whether she stays in Germany after giving birth to her son Jakub in June. She decided to stay and took the way some more former Leipzig players had gone, such as Susann Mülller, Nina Müller or Maura Visser – and coach Martin Albertsen. Kudlacz-Gloc will even play an important role at the Champions League debutants earlier than expected, as now Visser announced her pregnancy.
7 Amanda Kurtovic – from Larvik to Bucuresti
The left handed with Balkan roots had already been playing at former Champions League winners Viborg in her younger days, before she returned to Larvik, where was the top star in the previous season. Together with her teammate Marit Malm Frafjord she went sout-east to join Danish born head coach Helle Thomsen. She will play an integral role in the Scandinavian orientated way of playing in Romania. Kurtovic is a highly skilled wing player with much more abilities than only running counter-attacks.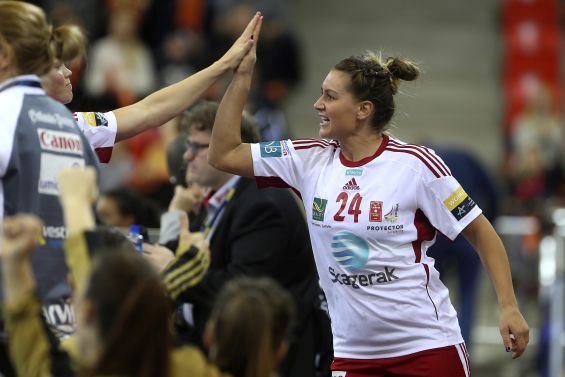 6 Dragana Cvijic – from Buducnost to Vardar
The powerful Serbian line player had her individual high at the 2013 World Championship, when she did not only win the silver medal, but was member of the All-star team. In 2012 and 2015, she won the Champions League with Buducnost, where she played a key role mainly in attack. Now, Cvijic only focus on the club team after she stopped playing for the national team. At Skopje, she will replace Anja Althaus and shall also guide her young fellow Serbian Marija Petrovic on this position.
5 Anja Althaus - Vardar to Györ
When the final whistle of the 2017 EHF Champions League final was blown, Althaus (36) announced in tears to end her career after three years at Vardar. It was her plan to start a family with her Macedonian boyfriend – but a phone call from Györ to her manager changed everything. The German, 2009 and 2010 Champions League winner with Danish side Viborg, changed her mind and signed a one-year contract at Györ. At the defending champions, she takes over the job of Heidi Löke (back in Norway) and will form the line player duo with Dutch Yvett Broch now.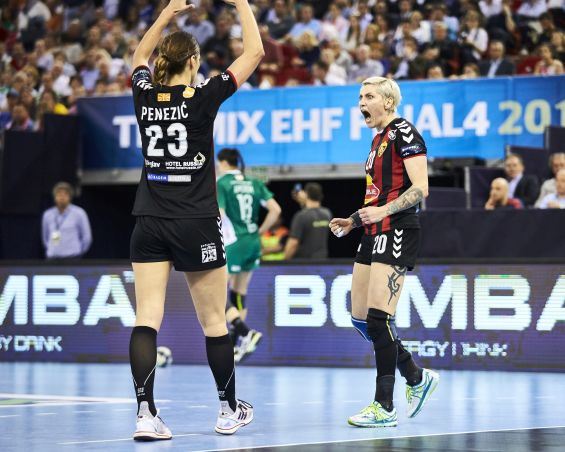 4 Mayssa Pessoa – from Vardar to Rostov
The 2013 World Champion signed for her third European top club in a row: After winning the Champions League 2016 with CSM Bucuresti in her second season at the Romanian capital, she joined Vardar Skopje for one year, making it to the 2017 Champions League final again. After Katrine Lunde left Rostov, Pessoa just started her second stay at Russia, after playing for Dinamo Volgograd from 2012 until 2014. With more than 20.000 Instagram followers, the Brazilian is top even off the court.

3 Katrine Lunde – from Rostov to Kristiansand
Twice Olympic gold medallist, World Champion, each four times EHF EURO champion (each with Norway) and Champions League winner (each twice with Viborg and Györ) – the goalkeeper is the "female Thierry Omeyer" to be the most successful player, currently on court in the EHF Champions League. After leaving Györ for a maternity break, she made it to Russia, steering Rostov to the EHF Cup triumph – and now returns home. Together with her twin sister Kristine Lunde Borgersen, she is the new face of the Vipers, who easily won the qualification tournament to start their maiden voyage in the group matches now.

2 Katarina Bulatovic – from Buducnost to Rostov
Katarina Bulatovic, Anna Vyakhireva, Iuliia Managarova – those are three real big left handed names for the right back and right wing positons Rostov can count on. Montenegrin EURO champion and Olympic silver medallist Bulatovic is out for her fifth Champions League trophy after winning the title with three different clubs already: Viborg, Buducnost (2) and Györ. The classical Balkan right back shooter was part of several All-star teams and besides top scorer of the 2012 EHF EURO in Serbia, steering Montenegro on top of the podium.

1 Cristina Neagu – from Buducnost to Bucuresti
Simply the best – there's nothing more to say about Neagu, arguably the best female handball player in the world. The Romanian left back is the only women to become IHF World Player of the Year three times (2010, 2015, 2016). After starting her international career at Valcea, she had severe shoulder problems and had to undergo some operations – but finally, when she transferred to Podgorica, she became what she is now, thanks to the patience they had with Neagu. In 2015, she was one key for Buducnost's Champions League trophy, in the same year, she was MVP and top scorer of the World Championship to lead Romania to the bronze medal. Now, the time has come for Neagu to return home, "the fans wanted me to come back", she explained her transfer to Bucuresti, which makes CSM one of the main contenders for the Champions League trophy.
Transfers to Non-Champions League clubs:
Besides, other big names have changed their sides, which do not play in the Women's EHF Champions League, like Danish national team goalkeeper Sandra Toft, who left Larvik to join Esbjerg, or the two 2016 Champions league winners Carmen Martin and Linnea Torstensson, who both left Bucuresti to join French side Nice. Two Norwegians returned home, but did not join the Champions League clubs Larvik or Vipers. Triple Champions League winner and World Handball Player Heidi Löke plays for Storhamar after her maternity leave, World, EURO and Olympic champion Camilla Herrem left 2017 finalist Vardar Skopje to join Sola HK.


Author: Björn Pazen / br