Saturday: 'Day of Truth'

Three of the semi-final participants are already known; Győri Audi ETO and Budućnost are Group 1 and Group 2 winners respectively, whilst CS Oltchim Rm. Vâlcea have secured second position in Group 2.

This leaves Montenegrin side Budućnost awaiting their opponent, who will be known following the games on Saturday (10th March).

ehfTV.com has live coverage of the matches Larvik (NOR) vs. Győri Audi ETO (HUN) and Grupo Asfi Itxako Navarra (ESP) vs. FC Midtjylland (DEN) on Saturday and Budućnost (MNE) vs. C.S. Oltchim Rm. Vâlcea (ROU) on Sunday, but regional restrictions apply.



For regional TV listings of all the EHF Women's Champions League matches click HERE.




GROUP 1






Larvik (NOR) vs. Győri Audi ETO (HUN)

Saturday 10th March, 16:45 hrs (local time)

Live on ehfTV.com (regional restrictions apply)


For the Hungarians, who have already qualified for the semi-final after four rounds, only their unbeaten status is at stake, whilst Larvik need a victory and also have to hope that Itxako either draws with, or defeats, FC Midtjylland.

Coach Karl Erik Bøhn´s team celebrated a clear 10-goal victory on Wednesday evening in the Hungarian Cup against Ferencváros, and this was without current EHF Champions League top-scorer Anita Görbicz who had suffered a slight injury to her ankle in a training.

The Hungarian centre-back will travel to Larvik with her colleagues, but she will probably be not used against the Norwegians to allow her su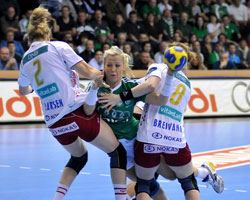 fficient recovery time before the early April clashes against Oltchim in the semi-final.

It's not only the away side that will be missing a player, but also the hosts, whose injury list is getting longer and longer towards the season´s end.

Sara Breistøl will be absent, meaning that Larvik´s left wing will be much weaker, as the only option there remains Kari Mette Johansen.

29-year-old Breistøl suffered an injury to her face and was carried off the court during Larvik´s Wednesday league match against Flint.

Subsequent medical examinations reported that Breistøl has two breaks in her jawbone and she must be operated on soon.

Despite the injury, the hosts will have to give their utmost after their shock home defeat last Sunday (4th March), when coach Ole Gustav Gjekstad´s team suffered a massive loss, meaning that his team has only gathered a single point from two home games.

It will be the first visit to the Larvik Arena for Heidi Løke and Karl Erik Bøhn since they left the club last season, and the main question will be whether their side will be as agile as in Győri Audi ETO´s home match, where the Hungarians presented top handball, seemingly from another planet.






Grupo Asfi Itxako Navarra (ESP) vs. FC Midtjylland (DEN)

Saturday 10th March, 19:15 hrs (local time)


Live on ehfTV.com (regional restrictions apply)

There will be a lot at stake for both teams in this fierce duel, as both clubs have chances to advance to the semi-final in the EHF Champions League.

The Spaniards were partly disappointed with the one point they collected in Győr, as coach Ambros Martín´s team had a scoring possibility for victory, but his players did not realise the chance.

After three ties in five games, Carmen Martín and her team-mates are waiting for the club´s first Main Round victory, the one that could lead them to the semi-final.

For this, they should be fully focused during the whole match and especially in both decisive phases of the match, where they allowed too many fluctuations in previous games, costing them vital points.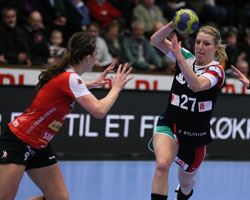 Coach Martín is still unsure whether he can play centre-back Macarena Aguilar, who injured her nose two weeks ago against Larvik. She is still sidelined, without any proper training, in Itxako.

On the other hand, their Danish opponents surprised the handball world with a clear victory against the title holder in Norway.

Coach Ryan Zinglersen devised some great tactics for his side, with not only his back-court scoring, but also his speedy wing players, the gifted Fie Woller and Trine Jensen.

Against Itxako, whom Nycke Groot and her team-mates have already defeated in the Main Round, a tough match will be expected, where both teams will give their maximum and will fight with full energy for every ball.

GROUP 2




RK Krim Mercator (SLO) vs. Metz Handball (FRA)

Saturday 10th March, 20:00 hrs (local time)


Nothing at stake in Ljubljana, as the two teams will battle only for third position within their group as they bid farewell to this year´s edition of the EHF Champions League.

The French champions from Metz have only one point on their account and in the last round coach Sébastien Gardillou´s team will need an aw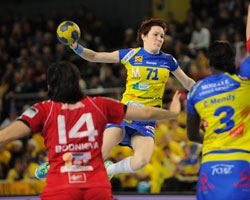 ay victory to finish third in the group.

The biggest news story of the week in Metz has been Allison Pineau´s Wednesday afternoon announcement at a press conference in Paris. The high-quality centre-back revealed the name of her next club, she will join Oltchim Rm. Vâlcea in the summer.

Krim have so far disappointed their local supporters, as Andrea Penezić and her team-mates suffered two defeats in the Arena Stožice.

Their only victory was from the third round, when the Slovenians celebrated a heart-stopping single-goal success against their French counterpart.

Against Metz, coach Tone Tiselj´s team aims to defend its third position in the group by bidding a nice farewell to the EHF Champions League with a victory.




Budućnost (MNE) vs. C.S. Oltchim Rm. Vâlcea (ROU)

Sunday 11th March, 19:00 hrs (local time)

Live on ehfTV.com (regional restrictions apply)




As everything has been decided in the group regarding semi-final places, this game will only be about pride for the hosts, who have won all five of their Main Round games so far and have the best results among the eight remaining EHF Champions League participants.

Their opponents, C.S. Oltchim Rm. Vâlcea, have started to sign and announce players for their next year´s squad. The Romanian champions will be directed next season by former World Handball Player Allison Pineau.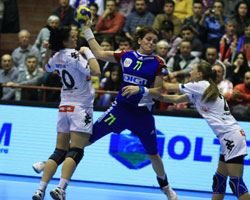 Meanwhile, the Romanians are preparing for their semi-final clash against Group 1 winner Győri Audi ETO.

This game will mean a return to Hungary for Oltchim´s Aurelia Brădeanu, who spent seven seasons in Győr colours.

The hosts, Budućnost, await the name of their semi-final opponent, which will be known when the two teams throw-off on Sunday.

A great headache for coach Dragan Adžić is the loss of young prospect Dragana Cvijić. The Serbian international is injured and sidelined for three weeks.
Author: Márk Hegedüs