Leslie: We will be back
Despite finishing last in Group 1 of the Women´s EHF Champions League Main Round with only one point, Jan Leslie, head coach in Randers HK, is content with his team´s performance in the tournament this season.

Advancing to the Main Round was a milestone for the Danish champions, and it has given them an appetite for new European adventures, as Leslie reveals in this interview with ehfCL.com

ehfCL.com: How would you characterise your team´s performance in the Main Round?

Jan Leslie: We all knew when we saw the draw that this group after Christmas would be a very tough one – with Györ, Larvik and Buducnost as our opponents.

Still, I think we were close to getting points in all our matches apart from those against Györ. The Hungarians were simply outstanding and are deserved winners of the group.

In our match in Larvik we had some problems, mainly due to injuries, but in our three remaining matches, I think we could have got six points.

We only got one, but I think we did well in all the matches, and I cannot point a finger at the attitude in the team which was really great all the way.

ehfCL.com: Overall, what do you think of your Women's EHF Champions League campaign this season?

Jan Leslie: We had some problems in the first group phase, because we were missing two or three players due to injury in practically every match.

Nevertheless, when we needed a seven goal win against Hypo Niederösterreich in the last match, we managed to win by nine and qualify for the Main Round for the first time ever and as I just said, I think we did rather well in that very strong group.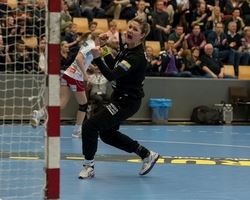 ehfCL.com: What do you feel your team have learned from playing in the competition this season?

Jan Leslie: We have got a lot of valuable experience during the process and we have seen that we have managed to improve year by year.

In our first year in the Champions League we did not stand a chance, last year we were extremely close to reaching the main round, and this year we made it.

We have gained a lot of experience from playing against some of the strongest teams in Europe and from playing in some away venues, where the pressure is enormous. I am sure we can benefit from that experience in the upcoming play-offs for the Danish championship.

ehfCL.com: Speaking of the Danish championship, you only finished fourth in the domestic league. Usually, that does not exactly give you a great chance of winning the championship. Do you think we will see Randers in the Women's EHF Champions League again next season?

Jan Leslie: I hope and believe you will. Now we have been in the Champions League three years in succession, and I would hate not to be there again. It is correct that there are other teams who have the chance to take the title in Denmark, but hopefully we can benefit from the experience we have gained in Europe and be better on the day.
Author: Peter Bruun / cor