Dalby full of respect for Viborg
To former Danish international Camilla Dalby, the upcoming quarter-final between Viborg HK and Buducnost in the Women's EHF Champions League will be a particularly interesting experience.
The 26-year-old right back in the Buducnost squad has played with and against many of the Viborg players – in the Danish league as well as in the national team.
Many people tend to see the matches against Viborg more or less as a walk-over for Buducnost, but Dalby finds it relevant to warn the people who see an overall Montenegrin win as a given thing.
ehfCL.com.com: What will it be like for you, as a Dane, to play Viborg in the quarter-final?
Camilla Dalby: I am really looking forward to those matches, as we all do in the team. It is great that these all-or-nothing matches are coming now, but I also expect two very difficult matches. Viborg have been severely hit by injury, but they still have a very strong team and a strong fist seven in particular, so we have huge respect for Viborg.
ehfCL.com.com: Almost everyone sees Buducnost as favourites. Does this mean some extra pressure on you?
Camilla Dalby: No, it does not, as we do not see it that way. As I said, we have great respect for Viborg who have a very strong and experienced team, so I expect a couple of tough matches, actually.
ehfCL.com.com: If you manage to get past Viborg, you will in the Women's EHF FINAL4 once again. What will that mean to you?
Camilla Dalby: That will mean a lot. There are not many women's teams in Montenegro, so success in the Champions League means a lot to us. We were in a final last year, and I do not see why we should not be able to take the last step this year. I came down here to win the Champions League, so that would the ultimate triumph for me.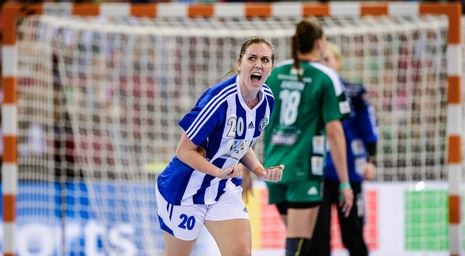 ehfCL.com.com: This is your second season in Buducnost and the second season of your first foreign adventure. What has it been like for you so far?
Camilla Dalby: It has been really great to play for one of the absolutely best clubs in Europe. Obviously, I have not played all that much this season, but our coach, Dragan (Adzic) has been completely honest about things, so I am accepting my role here, and I am still happy to be part of it all.
ehfCL.com: Still, you are going home after this season. Does that decision have something to do with the limited time on the court?
Camilla Dalby: Of course, I prefer to play. However, I also have a boyfriend back home, so there is also some privation. Of course, I want to play, no matter where I am, and Katja (Katarina Bulatovic) will also be here next year.
I am parting ways with Buducnost in peace and harmony, though. The club understands my situation and my wishes very well, so there are no hard feelings anywhere over this.
ehfCL.com.com: About a year ago, you said the Danish national team goodbye. Now a new national coach, Klavs Bruun Jørgensen is joining. Has that made you change your mind regarding the national team?
Camilla Dalby: I think it would be wrong of me to say anything about my possible future in the national team until I have had a talk with the new national coach and have heard what his thoughts and ideas are.
The right back position is probably the position where the competition around the national team is keenest. In Denmark, we have five highly qualified right backs, while most other nations only have one or two players for that position.
Therefore, it is obvious that I am going to have a talk with Klavs before I can say anything about the national team, but I definitely think that it will always be an honour to put on the red and white national team shirt.
Author: Peter Bruun / cor