Kristianstad humiliate Kolding, while Kielce win with dramatic finish
IFK Kristianstad ran over KIF Kolding Kobenhavn in the second half to win the Scandinavian derby 30:21, while in Poland a goal from Tobias Reichmann with three seconds left secured KS Vive Tauron Kielce a 27:26 win at home against MOL-Pick Szeged when the last two Group B matches were played on Sunday.

GROUP B
KIF Kolding Kobenhavn (DEN) vs IFK Kristianstad (SWE) 21:30 (13:11)

A stellar performance from goalkeeper Nebojsa Simic and a series of counter attacks in the second half secured Kristianstad a big win in the Scandinavian derby that closed the group phase for KIF and IFK.

"Their goalkeeper did very well, but it was annoying that they got so many easy goals on counter attacks," KIF left back Bo Spellerberg told Danish TV station DR1.

"Our performance in the (VELUX EHF) Champions League has not been good enough this season, especially at home."

As both teams had already lost their chance to reach the Last 16, only prestige and avoiding finishing last on the table were at stake.

But both sides were handicapped due to injury. KIF were missing left back Lasse Andersson and right wing Simon Jensen, while Kristianstad were without playmaker Christian O'Sullivan and right back Andreas Cederholm.

The fact that Brøndby Hallen, where the match was played, is not far from Kristianstad was noticeable as the Swedish champions were supported by more than 500 fans.

Those fans did not have much to celebrate at the start as Kolding soon created a 6:2 lead and, even though Kristianstad came back and were leading 9:7 then 10:8, five goals in a row from the home team resulted in a two-goal advantage for Kolding at half-time.

In the second half however, the visitors virtually humiliated their hosts.

Simic took over in the Swedish goal and, with a save percentage around 75 in the first 15 minutes of the second half, only allowed Kolding to score two goals in that crucial period.

Simic's teammates used his many saves to run counter attacks and decide the matter in their own favour, changing a 15:14 deficit into a 25:15 lead.

Kristianstad led by 10 goals at one stage before finally winning by nine and leaving Kolding in last place on the group table.

KS Vive Tauron Kielce (POL) vs MOL-Pick Szeged (HUN) 27:26 (12:16)

A goal from right wing Tobias Reichmann with three seconds left decided the match as Kielce and Szeged closed the group phase of the VELUX EHF Champions League.

Kielce had nothing at stake, as the Polish champions were sure to finish second in the group. Szeged however, had the chance to pass Rhein-Neckar Löwen and finish fourth, which would mean the Hungarian team would meet Zagreb in the Last 16 instead of THW Kiel, and furthermore, Szeged would play at home in the second leg.

From the start, it was quite obvious Szeged had more at stake. Apart from 2:1 at the start, the final score was the home team's only lead in the match.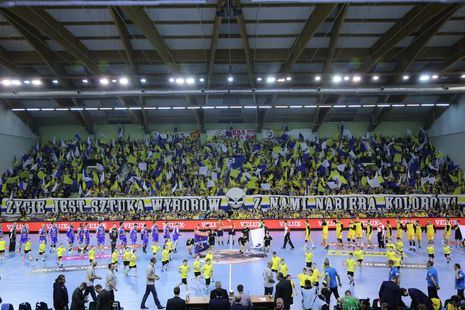 The visitors created several three-goal leads in the first half, and though the hosts always caught up, the guests would simply run away again. Shortly before half-time as well as at the beginning of the second half Szeged held a decisive five-goal advantage.

Szeged's traditional 5-1 defence with Jonas Källman pushed forward changing with a 3-2-1 formation and an aggressive 6-0 caused Kielce's attack a lot of trouble, but as the second half progressed the home team moved closer due in large part to Slawomir Szmal's improving performance in goal.

It was not until one minute and 15 seconds before the final buzzer that Kielce equalised through Michal Jurecki, and with three seconds left, Reichmann's shot into an empty goal gave the hosts the win.

In the Last 16, Kielce will be up against HC Brest Meshkov, while Szeged are meeting THW Kiel.
Author: Peter Bruun / cg